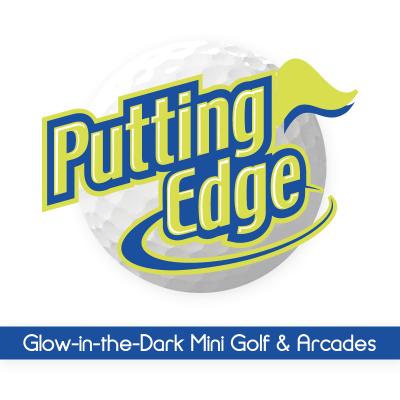 Looking for excitement? Craving entertainment? Take a break from reality and enter a new dimension of fun in the ultimate 18 hole indoor glow-in-the-dark mini golf experience at Putting Edge. Whether six or sixty, male or female, from the moment you walk through the front door, you have left the real world and have entered a world full of fun, imagination, and activity. The holes are as challenging as they are fun. Perfect for quality family time, a night out with friends, corporate functions, birthday parties and more, the possibilities are endless. Book your tee-time today and don't forget to visit them online at www.PuttingEdge.com.
You can call or email to book your tee time. I emailed the day and time I wanted, and got a reply email within an hour. I was able to book the exact day and time I wanted on a weekend just two days in advance. When we walked in, you immediately saw that everything was glow in the dark! Everything is lit by blacklights on the ceiling. We checked in and went to get our clubs. We were each given a glow stick wristband and got a matching glow in the dark golf ball.
Each of the holes were clearly marked with glowing numbers on the ground. I liked that there was enough light to see where you were walking, but you still had the effect of the glow in the dark atmosphere.
I highly recommend wearing white or other light colored clothing, or neon colors. It's so fun to feel like you are glowing, plus it helps with seeing each other.
There were several different rooms and each room had a theme with a few holes in them. My favorite was the the underwater/pirate room. I tried to take the time to enjoy the different artwork in each room, because they really were masterpieces! Check out all these awesome scenes:
In some areas they even had disco balls and fun laser lights. With the music they were playing, it felt like you could have a dance party! I loved it!
If there was a hole that had a slanted surface, there was an arrow showing that it went up.
We probably spent 1.5 hours for all 18 holes. The kids and adults both enjoyed the glow in the dark mini golf. This is something that is different and exciting and your kids will love it!
Putting Edge has 5 locations: Colorado Mills; Norridge, IL; Novi, MI; St. Louis; and Orlando.